Date:

23.10.2021

Characteristic:

Hillwalk

Duration:

4:42

h

Distance:

10.9

km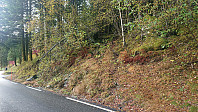 © Harald Barsnes It is not often that one gets to be among the first three registered visits for a summit on the Hordaland ≥ 100m pf. list, but given that Toppfjellet in Modalen only had two previous visits this should be possible. The most recent visit was by Runemb (Rune Blomberg) back in 2013, and thanks to his report I did not have to plan much to find the best route. After taking the train to Dale and then the bus to Eide, I located the marked trailhead and started on a trail marked with a combination of red paint and red plastic tubes. Note that while the trailhead was marked, it may not be the easiest to spot from the main road. There were however signs for both Eidsstølen and Brørvik within the first couple of meters. While the route was clearly marked, the trail itself was often more difficult to spot. The fact that the trail was soon covered by snow did not help either of course. >>>
Date:

19.10.2021

Characteristic:

Hillwalk

Duration:

3:02

h

Distance:

8.2

km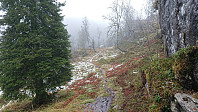 © Harald Barsnes After a two-day meeting at Voss ended after lunch, I managed to convince my colleague HHauser (Helwig Hauser) to go hiking even though the weather forecast looked less than promising. Prepared to get pretty wet and not expecting much in terms of views along the way, we settled on a roundtrip including both Klyvsnolten and Lauvhovden . We parked besides the gravel road up to Øvre Klyve, returned to the main road and followed it east for 400 meters before heading up a tractor road that Helwig had found when studying the map back at the hotel. The plan was to follow this tractor road until it ended and from there reach a trail stub indicated on the map south of Klyvesnolten. The tractor road, which seemingly had not been used in a long time, actually continued further than what is indicated on the map, and when it came to an end there was >>>
Date:

17.10.2021

Characteristic:

Hillwalk

Duration:

6:39

h

Distance:

22.3

km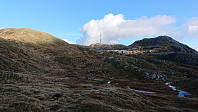 © Harald Barsnes I started by taking the express bus to Stord and getting off at the bus stop called Børtveit (Bortveit on the map). I then proceeded to follow the gravel road up to Svartavatnet where I inspected the map and found a possible shortcut to Kattnakken from the northeast. The plan was to continue southeast along the trail starting from north of Svartavatnet and then follow the overhanging power lines towards the summit. However, I initially missed the trailhead and continued a bit too far on the gravel road. But after an off-trail shortcut I managed to connect with the trail, which was even marked with occasional red markers and I even spotted a red T. It did not seem like a very heavily used trail though. Shortly after passing underneath the power lines I turned southwest and headed off-trail in the direction >>>
Date:

16.10.2021

Characteristic:

Hike

Duration:

1:44

h

Distance:

6.5

km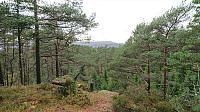 © Harald Barsnes Yet another short hike to visit new peaks on the Alle topper i Bergen list. First up was Vardehaugen , which was easily accessible via a trail from the north. Limited views from the summit, but Bildøybakken could be spotted in the distance. When continuing south along the trail across the summit, I also came across a metal trig marker on a slightly smaller hill. This trail later turned into a narrow gravel road before connecting with the wider gravel road east of Vardevatnet. I proceeded to follow the gravel roads until getting just north of Bjørnhaugen . Here I passed through a gate and continued on a trail which later turned into an animal track taking me all the way to the summit. Bjørnhaugen consisted of two small hills in which the northern one was slightly higher and contained a small metal trig marker. The best views were however achieved >>>
Date:

14.10.2021

Characteristic:

Hike

Duration:

0:34

h

Distance:

3.1

km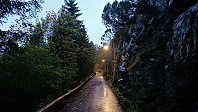 © Harald Barsnes Wet and windy local evening hike.
Date:

12.10.2021

Characteristic:

Hillwalk

Duration:

0:49

h

Distance:

3.9

km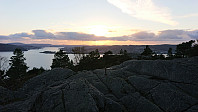 © Harald Barsnes Short local hike just before sunset.
Date:

10.10.2021

Characteristic:

Hike

Duration:

2:07

h

Distance:

8.7

km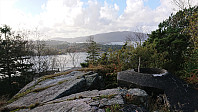 © Harald Barsnes Yet another hike to visit small hills recently added to the ever-growing Alle topper i Bergen list. First up was Hilrafjellet . It has a bus stop right next to it, but I managed to take the bus one stop too far and had to start the hike by walking back up to the hill. But before doing so, I waited for maybe 10 minutes in the bus shelter for the rain to stop. When it finally did, I quickly returned to the planned bus stop and followed the roads up to the final house south of Hilrafjellet. Here there was a small road up to the remains of several military installations with excellent views in all directions. The summit itself was reached via a short but wet detour. Next, I returned to the main road and followed it to Medhaugen . While I had been pretty sure that I could easily get to the summit of Hilrafjellet, I was less sure about Medhaugen. >>>
Date:

09.10.2021

Characteristic:

Hillwalk

Duration:

5:49

h

Distance:

16.2

km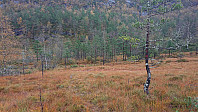 © Harald Barsnes After a detailed study of the weather forecast combined with a search for possible peaks that could be visited in between the seemingly constant string of rain storms, I settled on Tofjellet and took the early morning train to Dale and the connecting bus to Straume. Armed with arntfla (Arnt Flatmo) 's external trip report I started up the tractor road to Nesatræet . Here I decided to try the trail passing by two of the remaining buildings and from there closely following the river on the way to Straumsstølen . The trail was overall easy to follow, but relatively wet at times. The trail soon merged with the tractor road and within not too long I arrived at Straumsstølen. Or rather, almost at Straumsstølen. There was the small matter of crossing the river. At first I thought I would have to wade across, as the bridge seemed to be missing. However, I thankfully looked >>>
Date:

03.10.2021

Characteristic:

Hike

Duration:

4:10

h

Distance:

10.9

km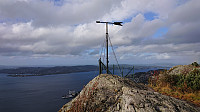 © Harald Barsnes Local hike on a day with strong winds and occasional rain showers.
Date:

02.10.2021

Characteristic:

Hillwalk

Duration:

2:29

h

Distance:

9.0

km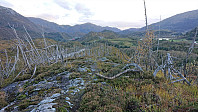 © Harald Barsnes Ever since my abandoned attempt at ascending Nedstaheia a couple of months earlier, I had been thinking about having another go. This time I did not come by bike though, rather by bus, and the hike therefore started from Arna terminal, from where I followed the river south towards the unmarked trailhead south of Nedstaheia . I thus easily returned to where the map indicates a trail heading towards Nedstaheia, and where my last attempt was abandoned. As expected, the trail was not easier to see today either, but I am pretty sure there must have been a trail here at some point, perhaps it is just not being used anymore. There were however some weak traces that could be followed and overall it was in the end straightforward to reach the summit, which provided good views in all directions. From the summit, I continued north, partly following a weak >>>