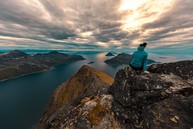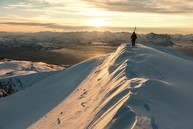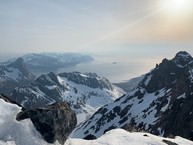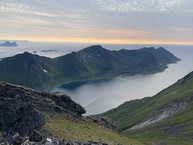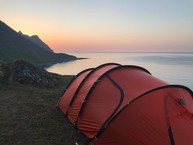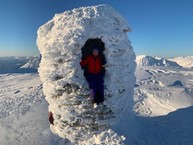 Favourite trips
Favourite peaks
Date:

15.06.2019

Characteristic:

Alpine climbing

Duration:

10:30

h

Distance:

17.8

km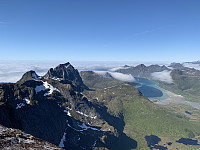 © Innika De Rosa The last mountain to finish our clean sweep of all the highest points in each kommune in Lofoten, happened also to be Norways most difficult kommunetopp. We met Geir Rune at Ytre Skjelfjord and divided up the gear. Around 9.30am we started our trip hiking through knee high grass and bushes, before we started gaining elevation in challenging terrain. The trail was weak and came and went. We walked up through some steep gullies covered in really thick vegetation, and once we came up on the pass around 600moh, we began a sideways traverse over a steep snow & grass felt, which was wet and slippery. Around 750moh we took our hardnesses on and started the first pitch, slippery mossy climbing up 'Holms renna'. From here, the second pitch led up through a big crack in the mountain. The next pitch >>>
Date:

14.06.2019

Characteristic:

Hike

Duration:

3:08

h

Distance:

6.8

km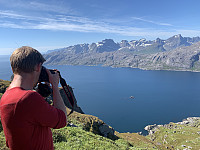 © Innika De Rosa Skottinden has a really interesting profile from the road but is surprisingly simple to hike, which made it a good candidate for our 'rest day' before Stjerntinden. We parked just before the gate and followed the private road up to the start of the trail. The trail started to the left of the red house # 550. We gained elevation quickly on a great trail, before flattening out around 400moh and then following the trail steeply up the ridge. We had wonderful views in all directions. Warm and with no wind, we had a lunch break at the top and started heading back down.
Date:

13.06.2019

Characteristic:

Hike

Duration:

4:34

h

Distance:

9.3

km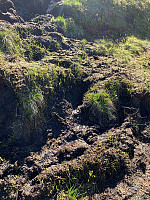 © Innika De Rosa When we woke up to an unbelievable third day of sun in a row, we decided today had to be Hermanndalstinden :) We organised at the ticket office in reine for the reinefjorden boat to take us into forsfjorden so we could start the hike. The trail starts to the right after we hopped off the boat and we started gaining elevation quickly, through a really wet and rocky trail. The view just kept getting more and more ridiculous as we gained elevation so there was quite a few pauses for photos along the way. After around 45min we came to a flatter section, where we took the path to the right and headed down around 75moh and started gaining elevation again. Here the trail became total rubbish for a while, and was quite exposed in places,before we passed some ropes and chains and started getting better >>>
Date:

12.06.2019

Characteristic:

Hike

Duration:

3:32

h

Distance:

9.0

km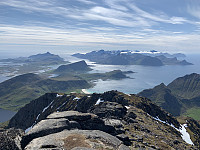 © Innika De Rosa A wonderful hike on a terrific path and first class view over Lofoten's nicest beaches :) We parked at Haukeland beach and followed the road leading up to the right of the tunnel, following the path that led up to the left and through a gate. Shortly we took to the left at the signpost for Himmeltinden and from here it was just to follow a really good, dry path all the way to the top. The first top is marked clearly by a big rock pillar. We continued across a few snow patches onto the true top where the antenna is, had a small lunch break and then headed back down the path. Takk for turen Otto, Inger Lise & Paal! :)
Date:

11.06.2019

Characteristic:

Hike

Duration:

5:40

h

Distance:

7.6

km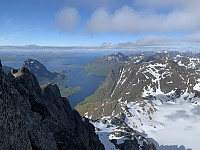 © Innika De Rosa Lofoten på sølvfat! The decision to try Higravtinden was taken on the boat from Skutvik to Svolvær. We were sceptical about how much snow would be in the top section, so packed crampons & ice axes. We parked by the side of what looks like a sammfunshus and headed up an old road to the right of the parking. We hopped over a gate and followed the path upwards. A great path for the most part, a few sections with loose stones but pleasantly dry & easy terrain. After just over an hour, at around 680moh we had reached the snow couloir and stopped to put crampons on. The couloir was around 30 degrees here, but it was late afternoon and the snow was pretty slushy so heading up wasn't a problem.As the couloir narrowed out and got closer to 50 degrees, we walked with the ice axes until we reached >>>
Date:

09.06.2019

Characteristic:

Sport climbing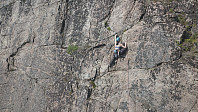 © Innika De Rosa En fin og solfull dag i veggen! Vi kom hit på lørdag ettermiddag men de fleste rutene var dessverre fremdeles våte etter regn i løpet av morgenen. Vi klarte to ruter hver på lørdag, og klokken begynte å bli sent, så vi bestemte oss for å komme tilbake på søndag. Vi begynte i Sektor Ålstad, hvor begge to led alle de 6 ruter i veggen der. Lavpillaren, nordligste ruten på veggen, var designert den beste her. Sektor Pillaren hadde to 5+ ruter vi var begge to gira på, men dessverre begge rutene var fremdeles våte til og med på søndags ettermiddag :( 27crags har god oversikt av de rutene og feltet dekkes av denne minifører: http://www.bodoklatreklubb.no/bkk/userfiles/Klatreforer%20for%20Nordskot%20%20Steigen%20ver1.pdf
Date:

07.06.2019

Characteristic:

Hike

Duration:

3:53

h

Distance:

7.9

km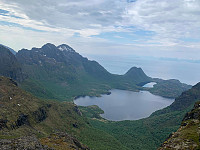 © Innika De Rosa A suprising terningkast 6! After getting rained out during an early climbing session at Sleppen klatrefelt, we decided to give Hansbakkfjellet a try as the weather looked more promising in the afternoon. We drove to hestbakken and parked by the side of a white house. We continued walking up the private road, to another property and a small, weak path led off to the right. The trail soon turned surprisingly into a drømmesti and we gained elevation steadily and slowly. It looks like one of the locals enjoys words of encouragement on his hikes, and we found lots of thoughtful quotes printed out and pinned to the trees :) Once we had come out of the treeline and had the pass in sight, the trail disappeared and we headed up a steeper section of grass until we came to the pass around 500moh. We continued >>>
Date:

07.06.2019

Characteristic:

Sport climbing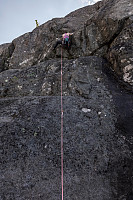 © Innika De Rosa Vi sett opp camp i området og gikk inntil klatrefeltet tidlig på fredag morgen. Innmarsj var mer eller mindre 5 minutter (luksus)! Dessverre kunne vi ikke finne noe informasjon om rutene på nett. Vi brukte 27crags for å komme frem til området, da det står 4 forskjellige vegger man kan leke i. Hovedveggen hadde for mesteparten ruter fra grade 6a og oppover, så vi valgte å begynne i ungdomsveggen. Rutene her ligger rundt 4 og 5, men de er dessverre ganske korte. En stor, fin balkong er bygd under rutene. Yr hadde meldt sol hele dagen, men vi klarte bare 2 ruter hver før regnværet kom. Jeg tror feltet er inkludert i klatrefører 'Stetind og Narvik, Dancing on the Devil's Dancefloor'.
Date:

06.06.2019

Characteristic:

Hike

Duration:

2:41

h

Distance:

6.0

km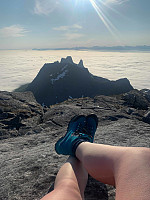 © Innika De Rosa After driving down from Tromsø during the day, we decided on a late afternoon trip to Hatten. Årets første fottur! We parked at Tortenåsen and followed the tractor path for a few hundred meters that ended up being an excellent little path that we followed all the way to the top. There had been an avalanche here in the course of the winter, so we had to pick our way around quite a few broken trees. The path continued the whole way to the big silver ladder as an aid to come right to the top. The view was wonderful, all the way over to Lofoten in the west and mainland, including Stetind, in the east. We enjoyed ourselves in the sun for a while and then started heading down. Had forgotten how much longer the trip down takes without skiis...Takk for en ordentlig kosetur uglefisk (Paal Andre Lund)