Peakbook-Friends
So far I'm not a Peakbook-friend of anyone.
Collected lists
I haven't joined any lists yet.
Date:

07.01.2018

Duration:

4:37

h

Distance:

9.4

km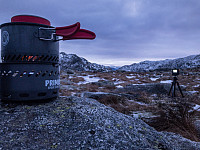 © Ben Young My first trip of the year! I had to get up early for this if I was going to catch the sun in the position I had intended. My plan was to be on top of Buløyfjellet in time to watch & capture the sun via timelapse coming up behind or beside Bynuten . I got up about 05:45, had some breakfast, packed and drove of to Seldalsheia parkering Bynuten . From here I started walking just after 07:00 and the temp was about -6°C. The walk took longer than I had expected due to large parts of the track being completely iced over. Even though I was using my good headlamp I couldn't always see the ice in the dark and end up taking a few tumbles. After about 1 hour and 15 minutes I was at the top, I got my warm clothes on, set up my camera and proceeded to make breakfast while I waited for the light show I was hoping for from the sun and little low lying >>>
Date:

31.12.2017

Duration:

3:16

h

Distance:

6.9

km
Once again I was out with my camera and arrived at Vedafjellet in time for sunrise with a plan to capture the sun rising up somewhere above the Gjesdal area. The wind was chilling! It was +1 degree but blowing a gale at the top. It was not very pleasant at all. The forecast was for light cloud but I was hoping for that the sun would show itself or produce some fantastic colours. But alas it was not to be. The clouds kept coming and ended up covering the distant mountains completely. I recorded a quick timelapse of the clouds rolling by before moving on to Skjenanuten , Brekkafjellet , Kodleberget and finally Ragnhildsnuten before heading back to the car. It ended up being a reasonably strenuous hike, but as always a pleasure. :-)
Date:

28.12.2017

Duration:

2:59

h

Distance:

4.4

km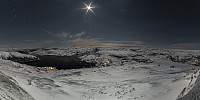 © Ben Young During the day we (myself and a friend) we talked about doing a topptur though figured it was a little unfair to leave the women with alone with the kids so decided we'd do a night topptur. So after they were in bed and after much umming and ahhing we decided we'd to try for Røseknuten . The weather was good, clear skies, no wind and -10 degrees. And there was enough moon light for us to find our way up without using headlamps or torches. The plan was to park at Gravasstølen and try find our way up. We started our ascent at 20:54 and it didn't take long until we found tracks in the snow where other had obviously skied down earlier that day, so it was just to follow the tracks to the top. Though part way up it was became obvious that Røseknuten was not a good choice, and the tracks we were following didn't go that >>>
Date:

27.12.2017

Duration:

1:46

h

Distance:

3.3

km
Date:

08.10.2017

Characteristic:

Hike

Duration:

9:26

h

Distance:

13.7

km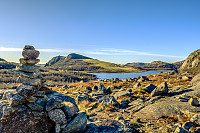 © Ben Young I was supposed to be in Sauda with a friend wandering around in the mountains but due illness I couldn't go. But after spending a few days at home resting up I was feeling better. Albeit too late for the Sauda trip. So I set off on a solo trip to Bynuten with the intention to capture the setting sun from up there and to capture some milky way images. I started late in the afternoon so I didn't have to spend hours waiting for the sun to come down. I timed it pretty well, I had about 20 minutes before the sun set by the time I got to the summit. I got some photos and proceeded to make some dinner while waiting for the stars to come out. Once satisfied I had images I was happy with I made my down in the dark.
Date:

27.09.2017

Duration:

3:15

h

Distance:

4.6

km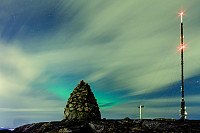 © Ben Young Another trip to Lifjellet, this time to capture the northern lights. Unfortunately due to standard Stavanger weather, visibility was not good. The photo below shows the only glimpse I got ...
Date:

16.08.2017

Duration:

1:48

h

Distance:

5.0

km
Date:

08.08.2017

Duration:

2:00

h

Distance:

5.0

km
Date:

07.08.2017

Duration:

1:55

h

Distance:

5.0

km