Archive - Date
Peakbook-Friends
So far I'm not a Peakbook-friend of anyone.
Collected lists
I haven't joined any lists yet.
Date:

08.09.2016

Characteristic:

Jogging

Duration:

5:00

h

Distance:

10.0

km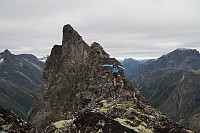 © Bård Smestad Gikk ryggen mellom Ågottind for to år siden. Gikk da opp renna mellom Ågottind og Bjørktinden og tur retur. Syntes den gangen at det var noe av det mest nervepirrende jeg hadde gjort. Nå ville jeg tilbake og gå hele ryggen. Og finne en bedre vei opp på Ågottinden. Denne gangen var alt så lett. Det er litt klyving men jeg synes ikke den er eksponert noe sted. Man holder seg slik at man har eksponeringen i østsiden, da er det greit. For en som ikke har særlig høydeskrekk. Vil ikke anbefale ruta mi ned fra Bjørktinden. Bratt og mest mose. Neste gang går jeg tilbake til Ågottind fra Bjørktinden og samme vei ned som opp.