Follow users
| | |
| --- | --- |
| Content | |
| Language | |
| Adviser | mortenh - Get in touch with mortenh for questions regarding this article. |
Follow users
There are several approaches to following other users, and there are two separate places where you can do it.
Why follow other users
By following other users your will automatically get information about what they've been up to on peakbook. Be sure not to miss out on other peoples latest tours and reports. Sure you can find out via other methods, but by following people you know or find interesting you will get it directly into the feed on your main page.
How to find the users
If you know their username already, open the Main Menu and select the Users option, search out the user and click on his/her username.
Wherever the username appear on Peakbook it's clickable, either it appears in a ranking, a comment, a tour report etc.
How to actually follow
The easiest way is to enter his/her userpage as described above, or type the URL of the userpage directly (http://peakbook.org/username). Once there you can either click on the person icon to the right of the username in the big box on top, or you can click on the "Follow user"-button to the right, directly below the wide fact box.
If you stumble across a tour report you find very nice or good and would like to see more from this user later, there's a person icon next to the author (directly below the tour title). If you click on this, you are following this user.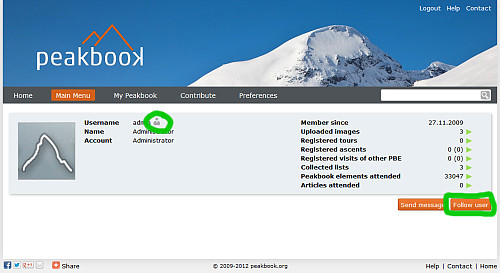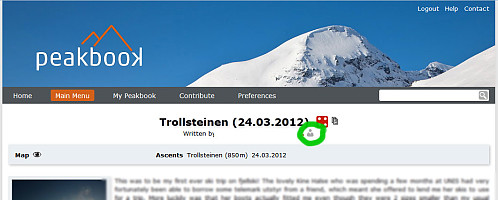 ---
Stop following
Just look up the user you don't want to follow anymore and click on the person icon mentioned above, or the button with the text "Stop following user". You will easily see the people you follow in the contact box on the left hand side of your main page. If you follow many users, there's a link to show all the contacts that do not fit into the box. You can also access your contact list by entering the My Peakbook menu and selecting My contacts.