Peakbook-Friends
Collected lists
I haven't joined any lists yet.
Date:

14.11.2015

Duration:

3:32

h

Distance:

11.1

km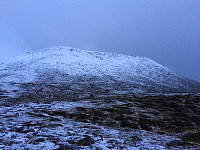 © Atle Solholm Denne dagen hadde vi egentlig tenkt oss opp på enten Trolltinden (1070 m.o.h.), men på grunn av været ble turen kortere og veldig annerledes fra det vi hadde tenkt. Vi parkerte på Flate, og fulgte seterveien opp til Flateseter slik vi også hadde gjort ved noen tidligere turer. Da vi var kommet ovenfor Flatesetra og klar av skogen, begynte det å snø ganske heftig, og etterhvert innså vi at det antagelig ikke var så trygt å begi seg opp hverken på Trolltind eller Ytstetind denne dagen. Men Båten måtte kunne la seg gjøre... Med tanke på Trolltinden hadde vi siktet oss inn på Båtreset (se GPS-tracking) oppe ved foten av Ytstetind, og planen var å gå videre fra Båtreset ned til Nedste Trollvatnet, og så derfra opp på Trolltind. Etterhvert som vi klatret oppover mot Båtreset, >>>
Date:

31.10.2015

Characteristic:

Hillwalk

Duration:

5:46

h

Distance:

16.2

km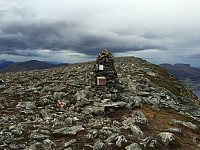 © Atle Solholm Etter å ha besteget Remmemstind et par ganger denne høsten, hadde jeg fått lyst til å prøve meg på Trolltind og Ytstetind. [Navnet på førstnevnte varierer mellom ulike kart og alt etter hvem du spør, noen kaller den Brustind, mens andre kaller den Trolltind]. Jeg kjørte hjemmefra til Flatebygda innerst i Flatevågen, og tråklet meg frem mellom gardene på jakt etter en setervei jeg hadde sett på kartet. Det viste seg lettere å finne fram enn jeg hadde regnet med: Et skilt på en stolpe viste veg. Jeg fulgte denne skiltanvisningen over et gårdstun og rundt en bygning. Bak denne var en bom hvor man måtte betale 20,- kr. for å slippe forbi, og 100 meter forbi denne kom jeg til en stor åpen parkeringsplass; jeg går ut fra at bompengene er for å finansiere eller nedbetale denne. >>>
Date:

24.10.2015

Characteristic:

Alpine trip

Duration:

4:39

h

Distance:

12.2

km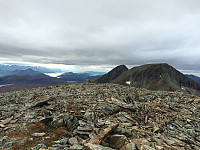 © Atle Solholm Dette var en tur jeg var nødt til å ta, fordi tanken på den var blitt til en besettelse inne i hodet mitt. Jeg og eldstesønnen hadde gått oppover Heia og et godt stykke oppover nordøsteggen på Remmemstind tidligere på året en gang. Da gav vi oss på det, for det var i bratteste laget. Imidlertid klarte jeg aldri helt å gi slipp på tanken på nå toppen via denne ruta, og denne helgen var jeg tilbake. Jeg var nå begynnt å bli såpass kjent i området, at jeg tok stien direkte fra Hellandseter opp mot Heia. Det som lokalt kalles Heia, er ikke et eget fjell, men bare en slags forlengelse av Remmemstinds nordøst-rygg nedover mot Hellandseter og Remmemseter. Det stikker frem et par knauser på denne ryggen, men ingen av dem har primærfaktor på mer enn en meter eller så, og derfor >>>
Date:

17.10.2015

Characteristic:

Hike

Duration:

5:49

h

Distance:

13.2

km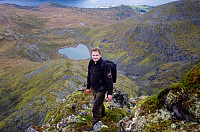 © Dag Solholm Fra Remmemsdalen er det tre forskjellige fjellrygger som fører opp til toppen av Remmemstinden. Det er nordøstryggen, midtryggen og Brastadryggen. Mellom nordøstryggen og midtryggen ligger Remmemsvatnet (724 m.o.h.), og mellom midtryggen og Brastadryggen ligger Brastadvatnet (627 m.o.h.). Denne dagen hadde jeg og eldste sønnen bestemt oss for å prøve oss på å nå toppen via midtryggen. Vi hadde en gang tidligere forsøkt oss sånn halvhjertet på nordøstryggen, og funnet ut at den var i bratteste laget; men midtryggen mente vi burde være grei. Vi la turen via Bjørnetua og Vardfjellet denne dagen, da vi tidligere hadde erfart at stien opp Heia kunne være litt vanskelig å finne helt nede ved Hellandsetra. Fra Vardfjellet fortsetter man bare videre oppover den fjellryggen man faktisk >>>
Date:

10.10.2015

Characteristic:

Hike

Duration:

4:23

h

Distance:

8.8

km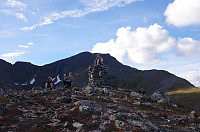 © Atle Solholm Dette var en tur søstra mi ønsket seg til fødselsdagen sin, og da var fjellene ovenfor Remmemsbukta noe vi hadde en akkurat passe nostaligsk tilknytning til. Vi vokste opp med farmor og farfar bosatt i Remmemsbukta, og pleide som barn ofte å besøke dem når vi hadde ferie. Den gangen var det langt mindre fokus på trening og almennhelse enn hva vi har i dag, og på fjelltur var det sjelden vi gikk lengre enn til den røde postkassa på trestammen ved Remmemsetra. Som barn hadde derfor ingen av oss vært hverken på Bjørnetua eller Vardfjellet, men jeg hadde vært på begge toppene noen uker før vi nå tok turen opp denne vakre høstdagen. Vi betalte de 30 kronene i bompenger, og kjørte Hellandseterveien opp til parkeringsplassen i Remmemsdalen. Derfra la vi så ut til fots, og gikk først >>>
Date:

12.09.2015

Characteristic:

Hike

Duration:

4:15

h

Distance:

13.1

km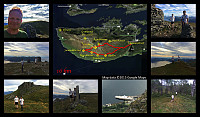 © Atle Solholm On this day I had another nice hiking trip on Mount Sulafjellet with my oldest son and one of his friends. This time we took a different route from what we've done on previous occasions; one that offers an awesome view in a southward direction. We set out from the parking lot at Mauseidvatnet as we've done before, and followed the gravel road through the forest past the cabin called Taustuhytta and up to the one called Rollonhytta . From there we continued along the mountain path that we had used before, up to the summit of the island, which is called Tverrfjellet or Vardane ; making sure though, to take a few minutes even to mount the peak called Rundehornet, so that I could tell people that I had been there also. From Vardane we descended in southwest direction towards Sulabakkhornet, and then >>>
Date:

29.08.2015

Characteristic:

Hike

Duration:

7:20

h

Distance:

24.9

km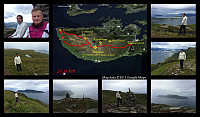 © Atle Solholm This weekend we had a really long hiking trip on Sulafjellet mountain. We started out from lake Mauseidvatnet, and went up to the highest point of the mountain as we've done on several previous occations; and from there we went on to the westmost part of Sula island, to a part of the mountain that is called Eltrane. To get there, we just followed a path along the nordthern edge of the mountain plateau that comprises most of the western part of the island. The path was nice, easy to spot, and not at all difficult to walk. We chose a different path for our return, however, as I had seen a track that was marked out on my hiking map. That track, however, proved to be overgrown by grass and heather, and it was very difficult to follow the path that had once been there. It seemed that this track >>>
Date:

15.08.2015

Characteristic:

Hike

Duration:

5:47

h

Distance:

16.9

km

© Atle Solholm I went for a cool trip on mount Sulafjellet along with my son Dag this afternoon. We started out from the parking place by the lake Mausavatnet as we've done on previous occasions, and walked past the well known mountain cabin Rollonhytta up to the mountain peak commonly reffered to as Vardane (776 meters above main sea level), though the real name is actually Tverrfjellet or just Sulafjellet from Sula, the name of the island on which the mountain is located [fjell = mountain]. We thereafter descended from Vardane as we headed towards another peak, Grøthornet, located 650 mamsl. From Grøthornet we descended quite a bit towards the village Langevåg, until we found a rather steep track that could take us up to the mountain peak called Svanshornet (552 mamsl). From Svanshornet we followed another >>>
Date:

08.08.2015

Characteristic:

Hike

Duration:

3:44

h

Distance:

12.0

km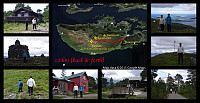 © Atle Solholm I had on this day a really nice trip on the mountain Sulafjellet with my oldest son and my oldest daughter, aiming for the peak called Vardane. I also made the very same trip two months and two days earlier with my two sons and my cousin Savanna. On that day we had showers of hail and rain on the trip, and there was still a substantial amount of snow in the track. Even today we had just a very little bit of rain as we started on our descent back down from the mountain, but that didn't last for long; and the temperature was very different from what it was back in the beginning of june...
Date:

03.08.2015

Characteristic:

Hike

Duration:

1:18

h

Distance:

4.0

km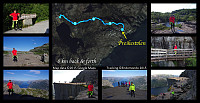 © Atle Solholm This afternoon I had a nice hike to the mountain plateau called The Pulpit Rock, in Norwegian Preikestolen. Weather was fabulous, it was actually so hot we needed to bring along a bottle of water each. It's a walk of about 4 km only (in each direction) from the parking area. Preikestolen is among the most famous tourist attractions in Norway, and has an estimated number of more than 200.000 visitors per year; hence a rather nice stone track has been made for the hikers, though it is, I have to say, a bit pebbled.