Peakbook-Friends
Collected lists
I haven't joined any lists yet.
Facebook
Date:

14.11.2015

Duration:

3:32

h

Distance:

11.1

km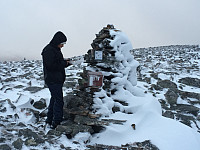 © Atle Solholm Denne dagen hadde vi egentlig tenkt oss opp på enten Trolltinden (1070 m.o.h.), men på grunn av været ble turen kortere og veldig annerledes fra det vi hadde tenkt. Vi parkerte på Flate, og fulgte seterveien opp til Flateseter slik vi også hadde gjort ved noen tidligere turer. Da vi var kommet ovenfor Flatesetra og klar av skogen, begynte det å snø ganske heftig, og etterhvert innså vi at det antagelig ikke var så trygt å begi seg opp hverken på Trolltind eller Ytstetind denne dagen. Men Båten måtte kunne la seg gjøre... Med tanke på Trolltinden hadde vi siktet oss inn på Båtreset (se GPS-tracking) oppe ved foten av Ytstetind, og planen var å gå videre fra Båtreset ned til Nedste Trollvatnet, og så derfra opp på Trolltind. Etterhvert som vi klatret oppover mot Båtreset, >>>
Date:

08.11.2015

Characteristic:

Hike

Duration:

6:43

h

Distance:

23.1

km
© Atle Solholm I've been working in the city of Bergen since September 2013, but I have not yet moved to Bergen. I usually go home (by plane) for the weekends unless I'm on call at the hospital where I'm working. During this particular week, however, my wife had come to Bergen to visit me instead, and we were therefore both in Bergen throughout the weekend. On Sunday I went for this 23 km long workout, where I climbed Mount Ulriken, and then followed a trail around the huge plateau that Ulriken is a part of, circumventing the valleys Isdalen, Hardbakkedalen and Våkendalen [The Norwegian word "dal" means valley]. The trail follows a mountain ridge that people in Bergen call Vidden . Finally, the trail takes you down into the pass that connects the valley of Våkendalen with the valley of Jordalen
Date:

07.11.2015

Characteristic:

Hike

Duration:

1:55

h

Distance:

4.5

km

© Atle Solholm I've been working in the city of Bergen since 2013. I usually go home for the weekends, unless I'm on call. On this particular weekend I remained in Bergen, however, and so I decided to climb Mount Ulriken again to get some recreation after a busy week at work. There is a rather steep path through the forest beneath the cable car, which I followed up the mountain side. From about 400 m.a.m.s.l. there's suddenly no more forest, but the path continues up the mountain side, and then follows a little mountain ridge till you're almost on top of the mountain. The last 50 elevation meters before you reach the end station of the cable car is again a bit steep, but not in a manner that will cause any trouble for you if you're just a little bit experienced with mountain trekking. For the descent I followed >>>
Date:

31.10.2015

Characteristic:

Hillwalk

Duration:

5:46

h

Distance:

16.2

km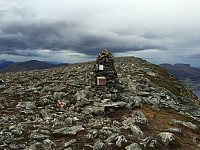 © Atle Solholm Etter å ha besteget Remmemstind et par ganger denne høsten, hadde jeg fått lyst til å prøve meg på Trolltind og Ytstetind. [Navnet på førstnevnte varierer mellom ulike kart og alt etter hvem du spør, noen kaller den Brustind, mens andre kaller den Trolltind]. Jeg kjørte hjemmefra til Flatebygda innerst i Flatevågen, og tråklet meg frem mellom gardene på jakt etter en setervei jeg hadde sett på kartet. Det viste seg lettere å finne fram enn jeg hadde regnet med: Et skilt på en stolpe viste veg. Jeg fulgte denne skiltanvisningen over et gårdstun og rundt en bygning. Bak denne var en bom hvor man måtte betale 20,- kr. for å slippe forbi, og 100 meter forbi denne kom jeg til en stor åpen parkeringsplass; jeg går ut fra at bompengene er for å finansiere eller nedbetale denne. >>>
Date:

24.10.2015

Characteristic:

Alpine trip

Duration:

4:39

h

Distance:

12.2

km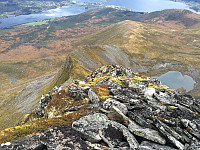 © Atle Solholm Dette var en tur jeg var nødt til å ta, fordi tanken på den var blitt til en besettelse inne i hodet mitt. Jeg og eldstesønnen hadde gått oppover Heia og et godt stykke oppover nordøsteggen på Remmemstind tidligere på året en gang. Da gav vi oss på det, for det var i bratteste laget. Imidlertid klarte jeg aldri helt å gi slipp på tanken på nå toppen via denne ruta, og denne helgen var jeg tilbake. Jeg var nå begynnt å bli såpass kjent i området, at jeg tok stien direkte fra Hellandseter opp mot Heia. Det som lokalt kalles Heia, er ikke et eget fjell, men bare en slags forlengelse av Remmemstinds nordøst-rygg nedover mot Hellandseter og Remmemseter. Det stikker frem et par knauser på denne ryggen, men ingen av dem har primærfaktor på mer enn en meter eller så, og derfor >>>
Date:

17.10.2015

Characteristic:

Hike

Duration:

5:49

h

Distance:

13.2

km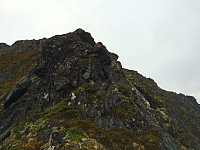 © Atle Solholm Fra Remmemsdalen er det tre forskjellige fjellrygger som fører opp til toppen av Remmemstinden. Det er nordøstryggen, midtryggen og Brastadryggen. Mellom nordøstryggen og midtryggen ligger Remmemsvatnet (724 m.o.h.), og mellom midtryggen og Brastadryggen ligger Brastadvatnet (627 m.o.h.). Denne dagen hadde jeg og eldste sønnen bestemt oss for å prøve oss på å nå toppen via midtryggen. Vi hadde en gang tidligere forsøkt oss sånn halvhjertet på nordøstryggen, og funnet ut at den var i bratteste laget; men midtryggen mente vi burde være grei. Vi la turen via Bjørnetua og Vardfjellet denne dagen, da vi tidligere hadde erfart at stien opp Heia kunne være litt vanskelig å finne helt nede ved Hellandsetra. Fra Vardfjellet fortsetter man bare videre oppover den fjellryggen man faktisk >>>
Date:

10.10.2015

Characteristic:

Hike

Duration:

4:23

h

Distance:

8.8

km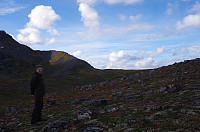 © Atle Solholm Dette var en tur søstra mi ønsket seg til fødselsdagen sin, og da var fjellene ovenfor Remmemsbukta noe vi hadde en akkurat passe nostaligsk tilknytning til. Vi vokste opp med farmor og farfar bosatt i Remmemsbukta, og pleide som barn ofte å besøke dem når vi hadde ferie. Den gangen var det langt mindre fokus på trening og almennhelse enn hva vi har i dag, og på fjelltur var det sjelden vi gikk lengre enn til den røde postkassa på trestammen ved Remmemsetra. Som barn hadde derfor ingen av oss vært hverken på Bjørnetua eller Vardfjellet, men jeg hadde vært på begge toppene noen uker før vi nå tok turen opp denne vakre høstdagen. Vi betalte de 30 kronene i bompenger, og kjørte Hellandseterveien opp til parkeringsplassen i Remmemsdalen. Derfra la vi så ut til fots, og gikk først >>>
Date:

05.10.2015

Characteristic:

Hike

Duration:

1:58

h

Distance:

5.2

km

© Atle Solholm It feels quite liberating to climb mount Ulriken on monday afternoon/evening, when you've been on call and therefore confined to the hospital and your nearby apartment for the entire weekend. Bergen is a fantastic beautiful city at sunset and at twilight, by the way. And surprise, surprise, at the top of the mountain I encountered two of my colleagues (c'est une hôpital tres sportive..!).
Date:

26.09.2015

Characteristic:

Hike

Duration:

3:48

h

Distance:

9.7

km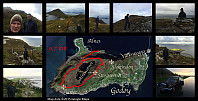 © Atle Solholm On this day I had another hike on the mountains of the island Godøy in Giske Municipality in Møre & Romsdal County in western Norway with my son Dag. We had a really nice hike; the pictures above speaks for themselves. The hike is pretty much identical to the one I made on May 2nd 2015. For a short tour description, see my short summary on that date, and for a map, open the GPS tracking! We parked at Hestevika Parking Lot, from where we followed the mountain path up to Lake Alnesvatnet, which is located 250 m.a.m.s.l. We next followed the mountain edge westwards to a ridge that extends northwards from Mount Storhornet, and then we just continued along this ridge up to the summit. Net, we descended the rather steep path on the west side of Storhornet, and climbed up Mount Lesten, thus >>>
Date:

12.09.2015

Characteristic:

Hike

Duration:

4:15

h

Distance:

13.1

km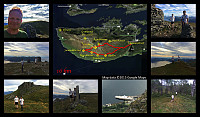 © Atle Solholm On this day I had another nice hiking trip on Mount Sulafjellet with my oldest son and one of his friends. This time we took a different route from what we've done on previous occasions; one that offers an awesome view in a southward direction. We set out from the parking lot at Mauseidvatnet as we've done before, and followed the gravel road through the forest past the cabin called Taustuhytta and up to the one called Rollonhytta . From there we continued along the mountain path that we had used before, up to the summit of the island, which is called Tverrfjellet or Vardane ; making sure though, to take a few minutes even to mount the peak called Rundehornet, so that I could tell people that I had been there also. From Vardane we descended in southwest direction towards Sulabakkhornet, and then >>>